Damato Pizzi and dispel doubts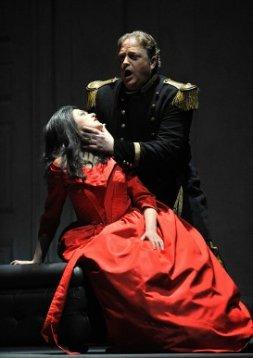 Pizzi y Damato disipan las dudas
A fortunadamente se dieron cita más fuerzas positivas que negativas para el estreno en Bilbao del 'Aroldo' de Verdi. Había que encontrar una puesta en escena que tuviera cierta calidad en un título apenas representado y después, había que lograr un reparto equilibrado de entre aquellos cantantes que tuvieran este título en repertorio. Se encontró la de Ravenna (filmada en vídeo en Piacenza), una producción con la firma de Pizzi de ambiente clásico y elegante que ha disipado las dudas previas existentes. Pero, sobre todo, nos tenemos que sentir satisfechos porque en el reparto hemos contado con la presencia de la soprano Adriana Damato, la única superviviente de aquella producción que llega a Bilbao.
El hecho de que esta soprano haya podido comparecer y cantar en el Euskalduna, ha supuesto un firme sostén para el papel de Mina, el cual requiere la fuerza expresiva y la solidez vocal que ha mostrado esta artista. Damato, vivió su drama, ofreciéndonos con absoluta corrección la difícil aria del sepulcro, 'Ah! degli scanni eterei' (¡Ah! desde los sitiales etéreos') y su posterior cabaletta, llena de saltos de voz de un extremo a otro de la partitura. Por otro lado, la alta tesitura que se requiere para el papel del barítono sirvió para contratar a Vladímir Stoyanov, artista que ya ha cantado sin pena ni gloria entre nosotros, pero que ahora, en su papel de padre (Egberto), ha podido lucir su facilidad en el registro alto, gracias a su atenorada voz. No seríamos justos si no señaláramos que completó una gran labor y cantó en todo momento con mucho gusto.
Por lo que se refiere al tenor Michael Hendrick, es cierto que dio todas las notas, pero su voz dejó mucho que desear. Entre otras cosas, le faltó poderío para trasmitirnos su drama con fuerza y al carecer del volumen y del color se un tenor spinto le resultaba difícil hacernos creer su dolor y su rabia. De todos modos y dada la dificultad del papel, se puede decir que cubrió bien su cometido y contribuyó al equilibrio de la representación en general.
También lo hizo el bajo Shvets en su papel de fraile y no tanto el tenor Maurizio Pace, que encarnó un rol no muy adecuado para sus características vocales de tenor ligero. Para finalizar, demos nuevamente la enhorabuena tanto al Coro de la Ópera de Bilbao por sus cortas pero precisas participaciones, como a la Sinfónica de Euskadi, con una especial mención al solista de trompeta en su limpia participación en la obertura.
A nately gathered more positive than negative forces in Bilbao for the premiere of 'Aroldo' by Verdi. He had to find a staging that had a certain quality of a title hardly represented and then had to achieve a balanced distribution among those singers who have this title in repertoire. It was found that of Ravenna (videotaped in Piacenza), produced by signing Pizzi classic and elegant atmosphere that has dispelled doubts existing prior. But above all, we have to feel satisfied because we have the cast attended the soprano Adriana Damato, the only survivor of that production reaches Bilbao.
The fact that this soprano is able to appear and sing in the Euskalduna, has been a strong support for the role of Mina, which requires the expressive force and vocal strength that has shown this artist. Damato, lived his drama, offering with absolute correctness the difficult aria from the tomb, 'Ah! scanni degli eterei '(Ah from the ethereal stalls') and subsequent cabaletta, voice full of jumps from one end to another of the score. On the other hand, the high tessitura that is required for the role served baritone Vladimir Stoyanov to hire, an artist who has sung unnoticed among us, but now, in his role as father (Egbert) could look It eases in the high register, thanks to a tenor voice. We would not be fair if we pointed out that much work completed and sang at all times gladly.
As regards the tenor Michael Hendrick, it is true that gave all the notes, but his voice was disappointing. Among other things, he lacked power to transmit to us his play hard and the lack of volume and color is one spinto tenor found it hard to make us believe their pain and rage. However, given the difficulty of the paper, one can say that covered their duties well and contributed to the balance of representation in general.
So did the low Shvets in his role as priest rather than the tenor Maurizio Pace, who played a not too appropriate role for his light tenor voice features. Finally, let us once again congratulate both the Opera Choir of Bilbao for their short but precise units such as the Euskadi Symphony, with a special mention to the solo trumpet in his participation in the opening clean.
NINO Dentici

El Correo