Review
HOPE SPRINGS ETERNAL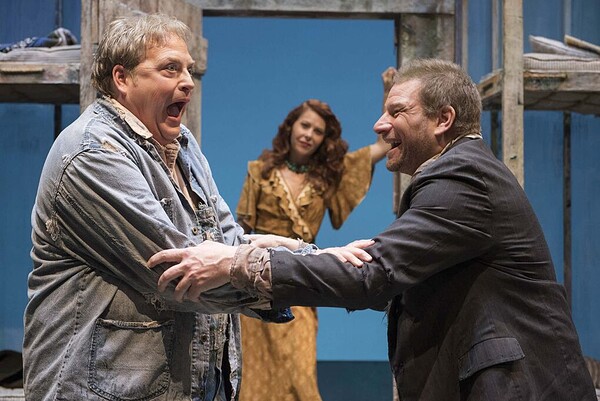 Opera has never shied away from the grittier shadows of life. Nor has Manitoba Opera, with recent productions dealing with torture, incest, murder and desperate political prisoners still so tragically relevant today.
The company's brave and bold choice to end its 43rd season with Carlisle Floyd's Of Mice and Men, based on John Steinbeck's classic novella, is the latest in that canon. The roughly 145-minute production stage directed by Winnipeg-born Michael Cavanagh and performed in English (with surtitles) opened Saturday night with two more performances slated this week.
The verismo opera's renowned, 89-year-old South Carolina-born composer/librettist attended the weekend performance. Regarded as one of America's greatest living opera composers, Floyd is best known for his 1953 opera Susannah, and has created musical scores and librettos for 12 staged works, including his latest, Prince of Players, which received its Houston Grand Opera première in March. He took a bow and received a standing ovation from the audience of 1,700 on Saturday night.
Maestro Tyrone Paterson superbly led the Winnipeg Symphony Orchestra through Floyd's through-composed, all-American score infused with the spirit of Copland, Barber and Bernstein.
The MO show — co-produced with Utah Symphony and Utah Opera, Cleveland Opera and Vancouver Opera — also featured effective sets by Vicki Davis lit by Scott Henderson and costumes by Susan Memmott Allred. The cast navigated the treacherous raked stage with nerves of steel, especially Winnipeg soprano Nikki Einfeld, who performs in heels.
Set during the Great Depression, Steinbeck's 1937 tale (later morphed into a play and film) tells of two migrant workers whose dream of owning a piece of their own land stretches further than the eye can see. George Milton takes care of the childlike Lennie Small, described in today's kinder, gentler terms as a person labelled with an intellectual disability, whose penchant for stroking soft things — rabbits, puppy dogs, baby mice — literally to death becomes his fatal flaw when it comes to the ranch boss's wife's silken hair.
Like shucking an ear of corn, Floyd has stripped Steinbeck's text to its essence, adding his own poetic licence to his operatic version, which premièred in 1970.
If there is one reason to see this show, it must surely be Michael Robert Hendrick's deeply compassionate portrayal of the hulking Lennie. In his MO debut, the American tenor perfectly balanced his character's emotional vulnerability with volatile, brute strength. It would be so easy to fall prey to mere stereotypes, but Hendrick was wholly believable without ever becoming disingenuous. He also nailed all of Floyd's wide, dissonant leaps that melt into lyricism as he sang of "living off the fat of the land," projecting both heartbreak and eternal hope.
Einfeld's attention-starved, aspiring Hollywood starlet is simply named Curley's Wife. Her slinky, nuanced portrayal brought prismatic colour to her tarty role, her wheedling the lusty chorus of ranch hands for sex made the bunkhouse hotter than a July heatwave. Her well-controlled, flexible soprano voice impressed as she artfully shaded her dynamics on razor-thin, uppermost notes.
Former Winnipegger Gregory Dahl also delivered a strong performance as George, with his robust baritone matching Hendrick's vocals note for note. His Act I solo, in which he described how his life "would be so simple by itself" created soulful, introspective counterpoint, and when he sang, "One day soon," during his duet with Lennie, he gave voice to the dreams of an era.
The always rock-solid character bass-baritone Peter Strummer as Candy and veteran bass-baritone David Watson as Slim provide substantive backbone, with Strummer's furry sidekick, the well-trained pooch Cailean, inspiring audible oohs and ahs from the crowd. Peter John (PJ) Buchan's melodious tenor rang out as the harmonica-playing balladeer, despite his role not being particularly well-integrated.
Also making his MO première, American tenor Joel Sorensen plays the sadistic Curley as an explosive powder keg ready to blow. However, had we been shown more emotional undertow and layering with his characterization, his whip-cracking fury would have been more potent by comparison. Less is often much more, and the brief moments during Act II in which he (almost) becomes pulled in by his wife's seductive ways provided critical subtext — albeit all too fleeting. Relationships are paramount in opera, and too often these rang hollow.
The libretto's pacing is somewhat challenging, and at times the opera teeters toward melodrama. The perennial adage in theatre, "Don't tell me, show me," holds particularly true, with the narrative's relatively scant action only diluting the dramatic tension and overall forward thrust. Ironically, the opening scene, in which police sirens wail, and blinding searchlights penetrate the darkness, is more powerfully urgent than the show's climax, in which George ultimately pumps a bullet into Lennie's head as an act of mercy. Strangely, Curley's rabid lynch mob falls mostly silent when they should be reaching a fevered pitch during the finale.
Still, Steinbeck's timeless classic is ultimately a tale of dreams that never grows old. Kudos to MO for ending its season not with more typical, "safer" operatic grand spectacle, but by peering intimately into the hearts of those who once held — or continue to hold — their own wistful longings for home.
holly.harris@shaw.ca
Holly Harris

Winnipeg Free Press