PRAYERS FOR UKRAINE (entire p. 2)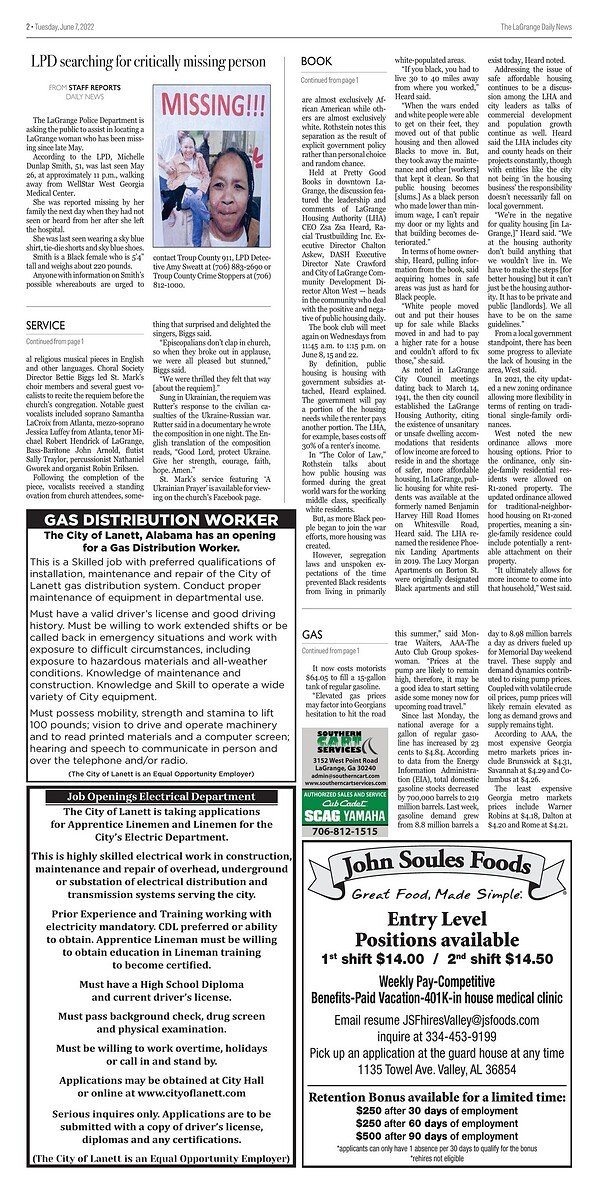 05 June 2022
PRAYERS FOR UKRAINE
By Shiann Sivell, LaGrange Daily News
In late May, members of the Choral Society of West Georgia ventured to Carnegie Hall in New York for a special performance. The 12-member group stood beside nearly 200 other vocalists to recite A Ukrainian Prayer, an original requiem created by world-renowned composet, John Rutter, who wrote the piece to honor those lost in the ongoing Ukrainian-Russia war.
On Sunday, the requiem was performed at the end of St. Mark's Episcopal Church's Day of Pentecost service, which featured serveral religious musical pieces in English and other languages. Choral Society Director Bettie Biggs led St. Mark's choir members and several guest vocalists to recite the requiem before the church's congregation. Notable guest vocalists included soprano Samantha LaCroix from Atlanta, mezzo-soprano Jessica Luffey from Atlanta, tenor Michael Robert Hendrick of LaGrange, bass-baritone John Arnold, flutist Sally Traylor, percussionist Nathaniel Gworek and organist Robin Eriksen.
Following the completion of the piece, vocalists received a standing ovation from church attendees, something that surprised and delighted the singers, Biggs said.
"Episcopalians don't clap in church, so when they broke out in applause, we were all pleased but stunned," Biggs said.
"We were thrilled they felt that way [about the requiem]."
Sung in Ukrainian, the requiem was Rutter's response to the civilian casualties of the Ukraine-Russian war. Rutter said in a documentary he wrote the composition in one night. The English translation of the composition reads, "Good Lord, protect Ukraine. Give her strength, courage, faith, hope. Amen."
St. Mark's service featuring 'A Ukrainian Prayer' is available for viewing on the church's Facebook page.