HOMECOMING CONCERT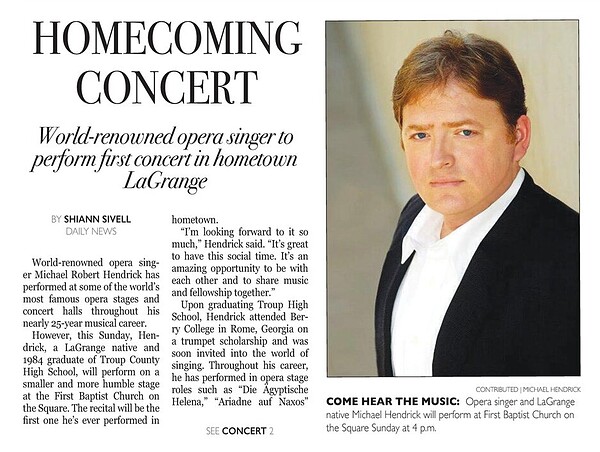 25 February 2022
By Shiann Sivell, LaGrange Daily News
World-renowned opera singer Michael Robert Hendrick has performed at some of the world's most famous opera stages and concert halls throughout his nearly 25-year musical career.
However, this Sunday, Hendrick, a LaGrange native and 1984 graduate of Troup County High School, will perform on a smaller and more humble stage at the First Baptist Church on the Square. The recital will be the first one he's ever performed in his hometown.
"I'm looking forward to it so much," Hendrick said. "It's great to have this social time. It's an amazing opportunity to be with each other and to share music and fellowship together."
Upon graduating Troup High School, Hendrick attended Berry College in Rome, Georgia on a trumpet scholarship and was soon invited into the world of singing. Throughout his career, he has performed in opera stage roles such as "Die Ägyptische Helena," "Ariadne auf Naxos"
and "Peter Grimes." Many of his performances have been in America and throughout Europe, he noted. His performances have ranged in English, German, Italian and other European dialects. In recent years, he's traveled and performed in countries like Croatia.
His visits to LaGrange have been scarce the last few years with his schedule, he noted. But he's been home in LaGrange visiting his mother and several friends and classmates the last month. Currently, he resides in Baton Rouge with his wife and son.
Presented by the Choral Society of West Georgia Community Outreach Concert Series, Hendrick's unique homecoming recital will feature a wide variety of favorites: opera, musical theatre, as well as sacred and secular song literature, Hendrick said.
I'm singing some sacred pieces and spirituals, which is perfect [due to it being] Black History Month," he said. "I'll sing some opera and move onto some musical theatre pieces and some Irish folksongs, just a mixture of different things to capture the interests of everyone [in attendance.]"
Mezzo soprano Dr. Toni Anderson of LaGrange College and pianist Andrew Harry will be feautred as collaborative artists for the event. The concert is free to the public and will take place within the congregation hall of the First Baptist Church on the Square beginning at 4 p.m. Refreshments will be served following the event.