A BALLAD OF MICHAEL ROBERT HENDRICK (page 2)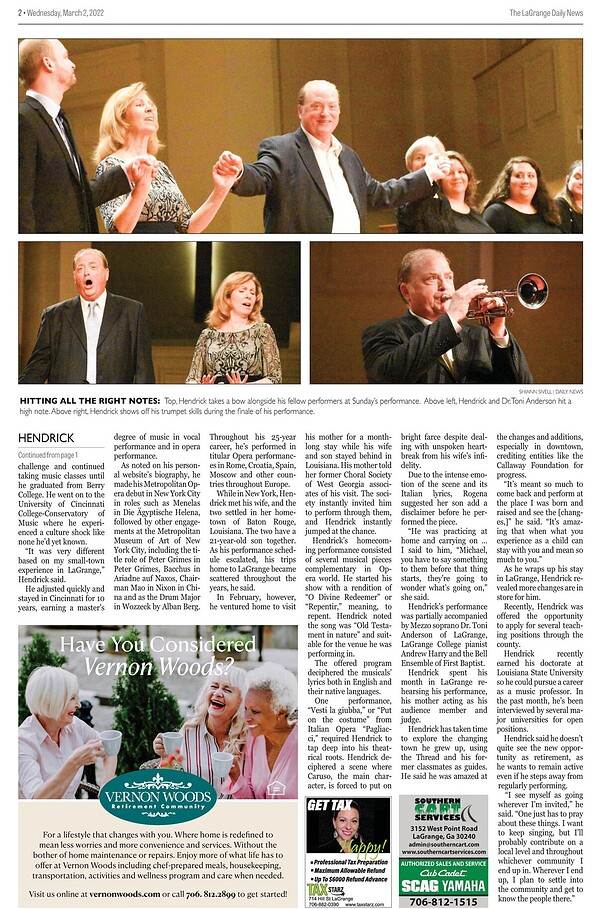 01 March 2022
By Shiann Sivell, LaGrange Daily News
Michael Robert Hendrick's tone was gentle as he greeted the expansive crowd of eager listeners within the First Baptist Chuch on the Square's audience. After all, the LaGrange native and world-renowned opera singer knew the majority of the crowd - a mix of family, friends and former classmates. Many have followed his performances from afar or from the delivery of his mother, Rogene Hendrick, who was sitting front and center of the church's gallery.
This performance is a particular humbled one and, by personal means, the most important of the native son's career. It's the first one Hendrick has given in his hometown of LaGrange, and all eyes are on him.
As he begins his debut on the expansive church stage, Hendrick sets aside the microphone, option instead to use his well-trained voice to reverberate off First Baptist's acoustic walls.
Hendrick was born in LaGrange and graduated from Troup County High in 1984. Following graduation, he attended Berry College in Rome, Georgia, on a trumpet-playing scholarship. At this point, his singing experience had been limited, and Hendrick wasn't entirely sure what he wanted to do for a living.
One day, while he was sitting in Berry College's art museum, a fellow musician told Hendrick about a new voice teacher and suggested he join the class.
Hendrick agreed, accepting the class as a new sort of challenge and continued taking music classes until he graduated from Berry College. He went on to the University of CIncinnati College-Conservatory of Music where he experienced a culture shock like he'd yet known.
"It was very different based on my small-town experience in LaGrange," Hendrick said.
He adjusted quickly and stayed in Cincinnati for 10 years, earning a Master of Music in vocal performance and an Artist Diploma in opera performance.
As noted on his personal website's biography, he made his Metropolitan Opera debut in New York City in roles such as Menelas in 'Die Ägyptische Helena,' followed by other engagements at the Metropolitan Opera, including the title role of Peter Grimes in 'Peter Grimes,' Bacchus in 'Ariadne auf Naxos,' Chairman Mao in 'Nixon in China,' and as the Drum Major in 'Wozzeck' by Alban Berg.
Throughout his 25-year career, he's performed in titular opera performmances in Rome, Croatia, Spain, Moscow and other countries throughout Europe.
While in New York, Hendrick met his wife, and the two settled in her hometown of Baton Rouge, Louisiana. They have a 21-year-old son together. As his performance schedule escalated, his trips home to LaGrange became scattered throughout the years, he said.
In February, however, he ventured home to visit his mother for a month-long stay while his wife and son stayed behind in Louisiana. His mother told her former Choral Society of West Georgia associates of his visit. The society instantly invited him to perform through them, and Hendrick instantly jumped at the chance.
Hendrick's homecoming performance consisted of several musical pieces complementary in the opera world. He stated his show with a rendition of "O Divine Redeemer" or "Repentir," meaning, to repent. Hendrick noted the song was "Old Testament in nature" and suitable for the venue he was performing in.
The offered program deciphered the musicals' lyrics both in English and their native languages.
One performance, "Vesti la giubba," or "Put on the costume" from the Italian opera "Pagliacci," required Hendrick to tap deep into his theatrical roots. Hendrick deciphered a scene where Canio, the main character, is forced to put on bright farce despite dealing with unspoken heartbreak from his wife's infidelity.
Due to the intense emtion of the scene and its Italian lyrics, Rogene suggested her son add a disclaimer before he performed the piece.
"He was practicing at home and carrying on... I said to him, 'Michael, you have to say something to them before that thing starts, they're going to wonder what's going on," she said.
Hendrick's performance was partially accompaied by mezzo-soprano Dr. Toni Anderson of LaGrange, LaGrange College pianist Andrew Harry, and the Bells of First Baptist.
Hendrick spent his month in LaGrange rehearsing his performance, his mother acting as his audience member and judge.
Hendrick has taken time to explore the changing town where he grew up, using the Thread and his former classmates as guides. He said he was amazed at the changes and additions, especially in downtown, crediting entities like the Callaway Foundation for progress.
"It's meant so much to come back and perform at the place I was born and raised and see the [changes,]" he said. "It's amazing that when what you experience as a child can stay with you and mean so much to you."
As he wraps up his stay in LaGrange, Hendrick revealed more changes are in store for him.
Recently, Hendrick was offered the opportunity to apply for several teaching positions throughout the country.
Hendrick recently earned his doctorate at Louisiana State University so he could pursue a career as a music professor. In the past month, he's been interviewed by several major universities for open positions.
Hendrick said he doesn't quire see the new opportunity as retirement [from singing], as he wants to remain active even if he steps away from regularly performing.
"I see myself as going wherever I'm invited," he said. "One just has to pray about these things. I want to keep singing, but I'll probably contribute on a local level and throughout whichever community I end up in. Wherever I end up, I plan to settle into the community and get to know the people there."